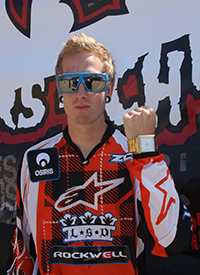 At only 19 years of age, Destin has already made a name for himself in the sport of freestyle motocross. Known for his crazy extensions on tricks such as Kiss Of Deaths, Double Grabs and Dead Bodies, Destin, a.k.a. Young Money, has a way with tweeking his body like no other athlete can. Having been featured on Fuel TV and in Transworld Motocross Magazine, Destin is pushing the sport to new levels.
Enter Destin Cantrell, a 20-year-old Freestyle Motocross  prodigy from Huntington Beach, Calif. It has been said that no other young rider has as much natural skill on a dirt bike, and his giant extensions are revered by many of biggest names in the sport. So what's the problem? Nothing … except that Cantrell's tricks are all right-side up.
"I ride my bike every day and I know I am capable of doing [the flip]," he says. "It's just a matter of blocking it out and going for it."
That may be true, but it doesn't make the trick any easier — or less scary. Doing a backflip on a dirt bike is probably one of the most dangerous things a human being can do. It wasn't even a part of the FMX lexicon until 2001 when Carey Hart attempted it for the first time, and even though today's top riders can all pull it off, none of them take it lightly. In fact, the freestyle community is still reeling from the death of X Games gold medalist Jeremy Lusk and the near-fatal injuries to Australia's Cameron Sinclair, which can both be attributed to backflips gone wrong.
But Cantrell can't let those kinds of thoughts get into his head. Instead, he needs to focus on one plain and simple fact: learning the backflip will almost instantly vault him into Freestyle Motocross stardom.